---
Leading Lawyers Magazine features Green Griffith Partner, Caryn Borg-Breen, in its 2018 business edition.
---
Green Griffith is pleased to announce that founding partner, Caryn Borg-Breen, has been featured in Leading Lawyers 2018 business edition. Dustin Seibert writes: "Caryn Borg-Breen's love for intellectual property law can be most closely found in the 'intellectual' aspect of the work. Borg-Breen has an uncanny ability to get to the heart of the technology related to any patent she's working on and simplify it in a way that wins her cases."
"What separates Caryn from her peers is a unique combination of deep scientific understanding, extensive legal knowledge, and strategic thinking while making sure she intimately understands the client's business needs … We extremely value Caryn's sharp advice and enjoy working with her both on professional and personal levels." — Ilan Miller, Dexcel Pharma
"Caryn has an exceptional intellect, not just for patent law but for patent litigation in particular … The depth of her knowledge is something I don't see from many of her peers in the field." — Nelson Alexander, Horizon Pharma
"Not only does (Caryn) Borg-Breen have that technical mind, but she also possesses the legal nuance to be formidable in the courtroom. She is very diligent and totally unflappable. Things take good or bad turns, and she maintains an effective and pleasant demeanor throughout. It's a great trait for a trial lawyer to have." — John Flaherty, McCarter and English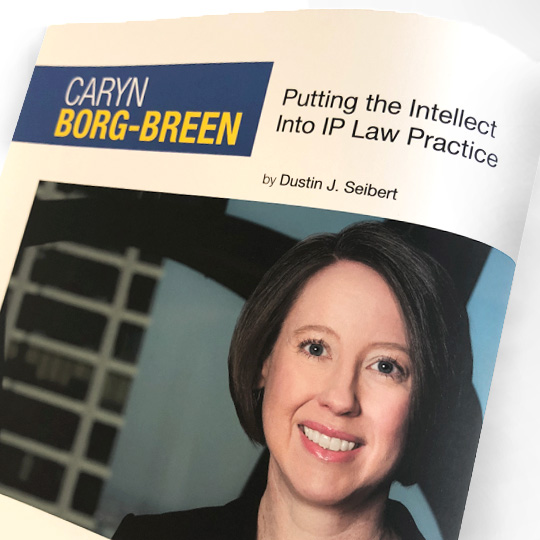 "In the courtroom, she keeps the judge interested and the other side wondering how she is going to attack their case next." — Bob Green, Founding Partner
View Caryn's Leading Lawyers 2018 business edition profile here.
We invite you to learn more about Caryn and Green Griffith here.