---
All Illinois Green Griffith attorneys have been named as 2022 honorees.
---
Green, Griffith & Borg-Breen is pleased to announce that, for the second year in a row, all of the firm's Illinois attorneys have been recognized by Illinois Super Lawyers for their excellence in the Intellectual Property and Intellectual Property Litigation practice areas.
Founding partners Bob Green, Chris Griffith and Caryn Borg-Breen all have been named to the Illinois Super Lawyers list for 2022, marking the seventh straight year when all three have been so honored. Bob Green has been included on the list for the past 14 years.
Four Green Griffith attorneys have been designated 2022 Illinois Rising Stars by Super Lawyers. Partner Jessica Tyrus Mackay has been included as a Rising Star for the past four years. Associates Timothy O'Brien and Benjamin Witte have been recognized as Rising Stars for the past three years, and associate Erin Kautz has been recognized as a Rising Star for the past two years.
"We are proud to continue the firm's tradition of delivering the highest quality service and results to our clients, and we appreciate this continued recognition of our efforts from Super Lawyers as we move into 2022." — Chris Griffith, Founding Partner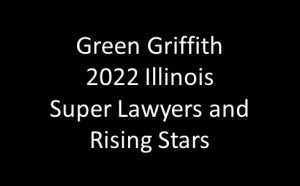 Congratulations to our award-winning attorneys:
2022 Illinois Super Lawyers: Robert Green, Christopher Griffith, Caryn Borg-Breen
2022 Illinois Rising Stars: Jessica Tyrus Mackay, Benjamin Witte, Timothy O'Brien, Erin Kautz
We invite you to learn more about our award-winning attorneys here.