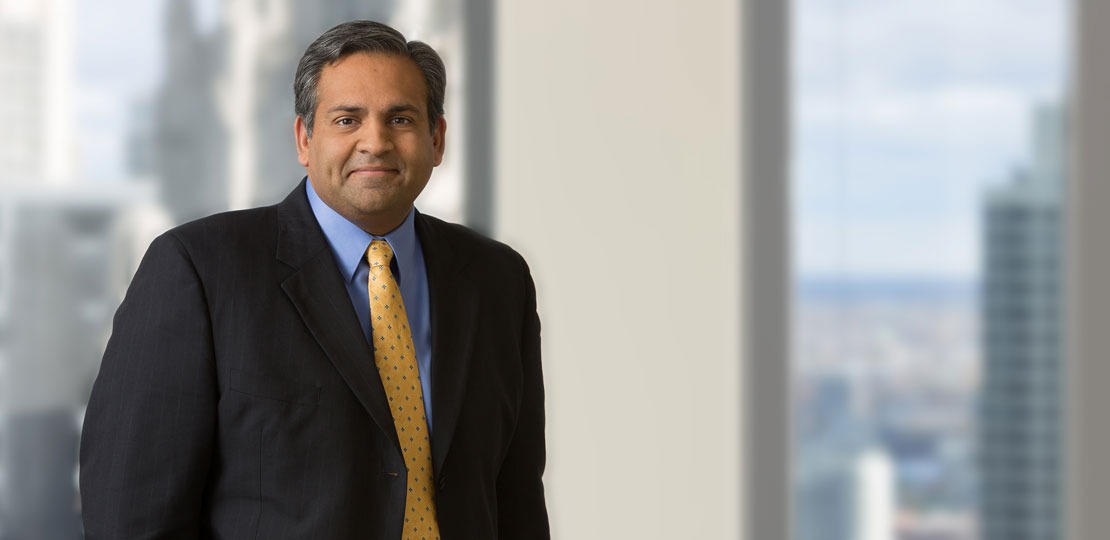 Damon Gupta
Associate
---
dgupta@greengriffith.com
312.883.8016
LinkedIn
Download vCard
When Damon digs into clients' cases, he puts himself in their shoes – because he's been there.
Damon's path to intellectual property law grew out of his passion for both science and the law. Damon's biomedical graduate research involved silencing the gene for a well-known enzyme and using cell culture and microscopy techniques to study that enzyme's role in cardiac repair.
Today, Damon merges his scientific background with intellectual property law – creating unique and valuable insight benefitting clients. "I understand the biological concepts behind our client's products and their methods of treatment," he says.
---
"Applying our understanding of the client's technology to intellectual property law, Green Griffith tailors effective legal strategies that provide the best outcome for that client's business objectives. Whether we are working with an expert witness to craft the prevailing argument at trial or advising a client about the strength of a patent estate, marrying our technical knowledge with our legal expertise always provides outstanding service to our clients," Damon says.
Damon's practice concentrates on complex intellectual property litigation, due diligence and counseling related to pharmaceutical, chemical and biological products. Damon is experienced in all phases of litigation, including pre-filing due diligence, e-discovery, fact and expert witness preparation, motion practice, depositions, discovery hearings, claim construction and trial.
Prior to joining Green, Griffith & Borg‐Breen, Damon was an associate at Rakoczy Molino Mazzochi Siwik LLP.
Education
Illinois Institute of Technology, Chicago‐Kent College of Law, J.D.,
      certificate,  intellectual property
Baylor College of Medicine, Graduate Program in
      Biomedical Sciences, M.S., molecular and cell biology,
      cardiovascular sciences
The Ohio State University, B.S., molecular genetics
Professional Affiliations
Judge, American Bar Association's Negotiation Competition National Finals, 2018-2019
Richard Linn American Inn of Court – Ethics Program Chair, 2017-2019
Court Admissions
Illinois
Washington, D.C.
Registered Patent Attorney, U.S. Patent and Trademark Office, No. 77,631
Honors
Mark T. Banner Scholarship Recipient, Richard Linn American Inn of Court, 2011
Named in the

 

Illinois Rising Stars

 

list, as published in

 

Illinois Super Lawyers, 2016-2020
Selected by peers as an Emerging Lawyer in Intellectual Property Law and Patent Law –

 

Leading Lawyers Network, 2017-2020
Publications
Damon Gupta, Virtually Uninfringeable: Valid Patents Lacking Protection Under the Single Entity Rule, 94 J. OF THE PATENT & TRADEMARK OFFICE SOC'Y, 61 (2012).
S. B. Haudek, D. Gupta, et al., Rho Kinase‐1 Mediates Cardiac Fibrosis by Regulating Fibroblast Precursor Cell Differentiation, 83 CARDIOVASCULAR RES., 511 (2009).
S. B. Haudek, D. Gupta, et al., Rho Kinase‐1 Mediates Cardiac Fibrosis by Regulating Fibroblast Precursor Cell Differentiation, 118 CIRCULATION, S276 (2008).
S. B. Haudek, J. Trial, Y. Xia, D. Gupta, et al., Fc‐Receptor Engagement Mediates Differentiation of Cardiac Fibroblast Precursor Cells, 105 PROCEEDINGS OF THE NAT'L ACAD. OF SCIENCES, 10179 (2008).
Speaking Engagements and Presentations
"Diversity and Careers in IP," panelist, Intellectual Property Law Association of Chicago, Loyola University, Chicago, IL, May 2019
Powerful advice. Persuasive advocacy.